Welkom op de site van Horlogerie Alex

Horlogerie Alex koopt en verkoopt Exclusieve (Vintage) horloges.
We zijn gespecialiseerd in Vintage Omega horloges en Omega horlogebanden.

Inruil van Uw Omega horloge is altijd bespreekbaar.
Helaas moet het horloge wel voorzien zijn van de originele verpakking, documenten en eventueel chronometer certificaat.

Verder staat Horlogerie Alex voor een zeer goede service en top kwaliteit.
Horlogebeurzen in Duitsland vindt U via deze link :               <![if !vml]>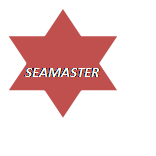 <![endif]>
Wij zijn gevestigd in het mooie Limburgse peeldorp America, gemeente Horst a/d Maas, op de grens van Brabant en Limburg midden in het natuurgebied de Grote Peel.
America is gemakkelijk bereikbaar via de A67 afritnummer 38 - N277 Richting Ysselsteyn
We werken alleen op afspraak voor de beste persoonlijke service
Men heeft binnen Nederland  wettelijk (art.7:46d Wet Koop op Afstand) het recht om een product binnen 7 werkdagen na ontvangst zonder opgaaf van reden te retourneren. Voorwaarden zijn dat het horloge met verpakking en alle geleverde goederen in dezelfde staat zoals verzonden. Kosten van handeling, verzenden, verzekeringen en belastingen zijn voor kosten van de koper.
Garantie van aangekochte goederen zijn aangeven op de bijgeleverde garantiekaart door leverancier.
Mits er GEEN garantiekaart is meegeleverd, is er GEEN garantie op aangekochte goederen mits anders vermeld op het aankoopbewijs.
Deze garantie is NIET overdraagbaar bij verkoop van het horloge aan derde.
Verzenden van een item is altijd op risico van de koper.
Privacy statement:

Horlogerie Alex houdt zich vanzelfsprekend aan alle wetten en dus ook aan de Algemene Verordening Gegevensverwerking.

We slaan gegevens op over klanten en andere zakelijke relaties. Die gegevens delen we niet met anderen, tenzij de organisatie of persoon, waar de gegevens over gaan / eigenaar van zijn, daar uitdrukkelijk toestemming voor geven. Dat geldt bijvoorbeeld voor referentie aanvragen of voor het versturen en ontvangen van pakketten.

Personen en organisaties kunnen de gegevens opvragen die op hen betrekking hebben. Ook hebben zij het recht die gegevens te corrigeren of te (laten) verwijderen. Het is ook mogelijk bezwaar te maken tegen het gebruik van uw gegevens. Wij verstrekken geen persoonsgegevens aan andere partijen (derden), tenzij dat noodzakelijk is om aangifte te doen van strafbare feiten.
# International Buyers are very welcome #
Warranty given to the item in our contract is written into our contract with the note regarding the warranty card, what comes with this item. If there is NO warranty card coming with the item there is NO warranty for this item OR the warranty period is written into the contract under header WARRANTY: This warranty is NOT been transported to a third party if this item is been sold by the buyer in this contract.
Horlogerie ALEX is NOT responsible for lost or damage of an item during shipping.
. All Duty & Custom costs are the buyers responsibility.
 We ship with standard documents for standard shipping inside Europe.
---------------------------------------------------------------------------
Our Office
<![if !vml]>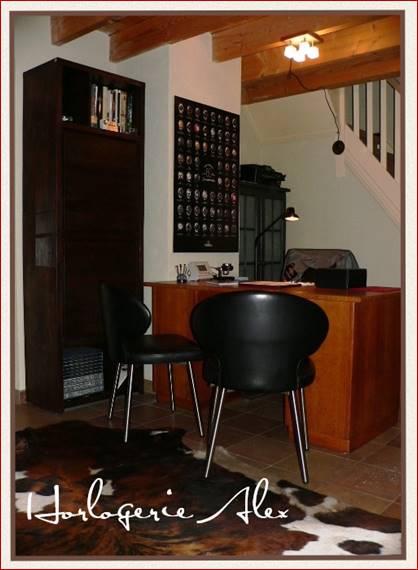 <![endif]>
------------------------------------------------------------------------------------------------------------------------------
Vintage Omega Seamaster collection
<![if !vml]>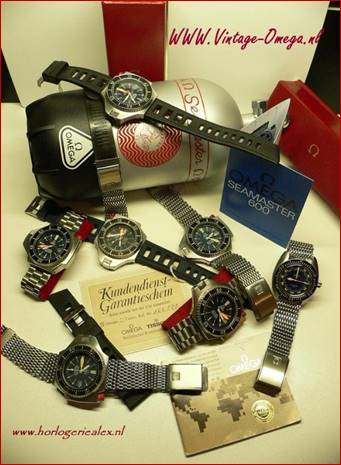 <![endif]>
--------------------------------------------------------------------------------------------------------------------------------
Omega Speedmaster Moonwatch
 ***** BOND, James BOND *****
Omega Seamaster 007 Limited Editon Co-Master
Watch is perfect running condition
Full set with Special boxes and papers
Original sold in Germany
Watch comes with extra 007 Steel bracelet
(Click on picture for more info)
Sorry SOLD
Omega Seamaster 007 Limited Editon Commanders Watch
Watch is new unworn condition in stickers
Full set with Special boxes and papers
Original sold in the Netherlands
Watch comes with extra 007 Steel bracelet
(Click on picture for more info)
€ 5.100,-
Heuer Watches
Heuer Autavia 2446MH
Caliber valj. 72
Very rare Heuer in perfect running original condition
Price : 9.850,-
Heuer Autavia 11630MH
Caliber 12
Full service but in original worn condition
Price : € 3.950,-
<![if !vml]>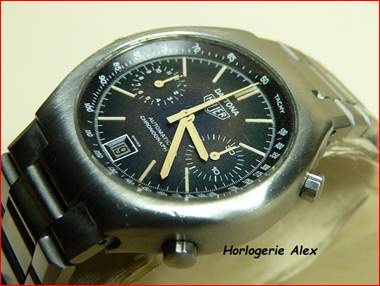 <![endif]>
Heuer Daytona
Caliber 12
Original perfect running worn condition.
Work looks like new (click on pic)
Price: € 3.150,-
Already sold Collector items :
<![if !vml]>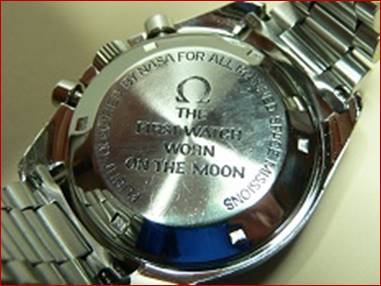 <![endif]>
1969 Omega Speedmaster First Moon Set
Ref: 145.022-69 ST First
Omega Speedmaster Moonwatch cal. 1045
"Holy Grail"
Omega Speedmaster Snoopy Award
Omega Seamaster 1000m
Ref : 166.093
Omega Flightmaster C911
Ref : 145.026
Omega Flightmaster C911
Ref : 145.036
Omega Seamaster 300
Ref: CK 2913-7
Omega Seamaster for sale :
Omega Seamaster 1000m
Ref : 166.0093
Price : € 6.750,-
1967 Omega Seamaster 300 Date
Ref: 166.024-67 SC
Price : € 8.500,-
1969 Omega Seamaster Chronostop Rotation Bezel with Omega steel Mech bracelet
Ref: 145.008
Watch is serviced at the Omega service and in perfect running Top condition for his age.
Price : € 2.250,-
Flightmaster for Sale
<![if !vml]>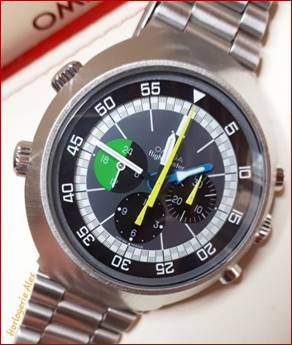 <![endif]>
C910 2nd Edition in TOP condition
Full service at Omega SA in 2010 and after this service
nearly worn
Sorry SOLD